Making the Leap: from Biomechanics Research to Business

26 – 29 June 2022

Within the scope of the ESB 2022 congress, we are organizing the International Symposium on Research and Entrepreneurship, which aims to be a forum for the congress participants to discuss the innovation, technology and societal impact related to Biomechanics.
The symposium is then focused on stimulating innovation and entrepreneurship among Biomechanics researchers, and offers them opportunities to start, to grow and to scale up their ideas for businesses. The ultimate goal is to contribute to the development of a Biomechanics ecosystem and to foster a culture of entrepreneurship in the academic Biomechanics community.
All symposium activities are going to be under the motto Making the Leap: from Biomechanical Research to Business. Mainly, it comprises a pre-course on Design Thinking, a contest for start-ups ideas, and inspiring and motivational talks.
Start-up Ideas Competition
The 2 winners have been announced at the ESB 2022 Closing ceremony,
Congratulations!
OSORA, Medical Fracture Analytics, Dr. Lucas Engelhardt (osora.eu)
BBSoF, Beyond Biomechanics Sport on Field, Zimi Sawacha (bb-sof.com)
Start-up Ideas Competition
Researchers developing biomechanics solutions will have the opportunity to present their ideas to the general public, experts and prospective investors in a dedicated space for pitches. The aim of this initiative is to promote innovative ideas among the wider public, raise awareness about innovation among professionals and link the different Technology Readiness Level in solutions with their deployment.
Panel of Experts:
André Fernandes
Head of the Office U.Porto Inovação
Manuel de Sousa Aroso
Lecturer at Universidade do Porto, Entrepreneur and Consultant
Marta Campos Ferreira
Universidade do Porto
This competition is divided into three phases:
First phase: Expression of interest in participating in the contest by sending information about the business idea and the team (application form available here).
Second phase: Selected ideas are invited to provide additional information about it, namely financial information and a video with the presentation of the business idea and the team.
Third phase: Teams selected for the final phase will have the chance to present their business idea to a panel of experts and potential investors. The two best pitches from the business presentations will be crowned the winners for their contribution in transforming the biomechanics ecosystem.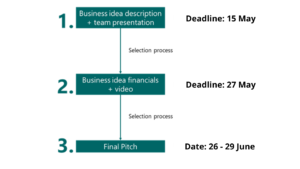 The ideas should be original, and their proponents, in all legal terms, are responsible for their authorship, particularly with regard to infringements of intellectual property rights that may be attributed to them. It will be the sole responsibility of the competitors to ensure the legal protection of the business ideas presented in the contest, and it is up to them to resort to the legal figures they deem appropriate.

During the course of ESB 2022, the Organization has the right to fix in any medium (paper, video, digital, or any other material known or that comes into existence), use, reproduce, display, or by any other means or legal form, make public the images and/or any other productions, in part or in whole, that are made within the scope of the competition. Accordingly, the Organization reserves the right to use the images, videos and/or any other productions made, whenever it sees fit, in the formats, media and for the purposes it considers appropriate, without needing the authorization of the respective authors and without them being entitled to any remuneration for such use and disclosure.
Pre-course
One pre-course dedicated to creativity and design thinking will be offered to participants. This is a short but intensive course with limited capacity, and subject to registration. The main objective is for participants to deepen their knowledge in the area and learn about the main tools and best practices to be successful entrepreneurs.
Ideation course
This course aims to increase the impact of biomechanics on society, stimulating entrepreneurship and raising awareness of the processes of creativity, generation of ideas and value propositions. During this course societal challenges related with biomechanics, such as ageing, chronicle diseases, physical activity, and sports, will be discussed.
The session will have two moments. The first moment will be about design methods for creativity and the early stages of design process, methodologies and thinking. In the second moment will be experienced an Ideation workshop.
This session will be held by Everythink (https://everythink.com/), a design studio from Porto.
Minimum number of participants: 20 p.
Registration fee: 45€
Date: Sunday, 26th June 2022, 10 am
EVERYTHINK is a design studio, powered by creative thinking, combining design and engineering, founded in the city of Porto in 2008.
In a people centered approach, they put creative methodologies and strategic thinking at the service of companies' innovation, to create new services, products, and experiences, in several sectors such as health, transportation, smart cities and smart living, or even musical instruments. They come across with exercises of design research, bringing people to ideate and create concepts, offering style, change, meaning, and memorable experiences.
EVERYTHINK was awarded several awards, such as iF Design Awards, is a member of the SME Innovation Network of COTEC-Portugal and maintains several collaborations with universities regarding design and engineering education and promotion.
Round table
Scientists and entrepreneurs will share their experiences on how to bridge the gap between research and business, what lessons they learned from their cases, and what advice they give to aspiring entrepreneurs
Organizer and moderator: Professor Jos Vander Sloten, KU Leuven.
Round table on Technology Transfer in Biomechanics
Monday June 27th, 17:00
Biomechanics has matured into an area of science where transfer of research findings into patient treatment has become a reality. This transfer is supported through collaboration of research centers with industry, facilitated by the Technology Transfer Offices of universities.
This round table will bring together representatives from a technology transfer office, from academia, from industry and from a research foundation. They will share their views and experiences on transfer of outcomes of biomechanics studies which will serve as a source of inspiration for the delegates.
Confirmed speakers:
Mrs. Tine Van Lommel, Innovation Manager Leuven Research and Development
Mrs. Maria Oliveira, Business Director UPTEC 
Dr. Behnam Esfandiar, Academic Market and Innovation Manager Materialise NV 
Ricardo Moura, CEO Wisify Tech Solutions 
Dr. Peter Varga, Senior Project Leader Biomedical Development AO Foundation 
Prof. Wafa Skalli, ParisTech 
Inspirational Talk
Inspirational and motivational speech will be led by scientists, professionals and thinkers during ESB 2022 to engage the attendees and participants of the conference. The themes behind the talks will address cross-cutting issues related to the topics of the congress and to the new challenges for biomechanics entrepreneurship beyond 2022.
KEYNOTE LECTURE
A plenary session will be provided on "how to communicate science" with an expert in the field: Professor Joana Lobo Antunes, Universidade Nova de Lisboa. The main aim is to inspire participants to engage in science communication and increase the effectiveness of those who already work in it, encouraging them to share their experiences with others.
Marta Campos Ferreira
University of Porto - Portugal
João Manuel R.S. Tavares
University of Porto - Portugal